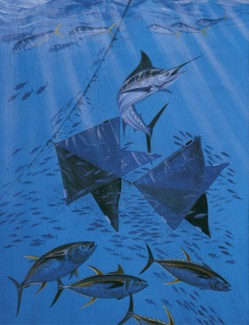 Illustration by Guy Harvey
So now that we've made this bold statement, let's get a disclaimer right up front too. No, you won't get fish by putting the Sea-Kite in your freezer, or in the empty pond in your backyard, or on top of your grill. But put one anywhere else where there is a body of water with fish in it, and yes...the Sea-Kite will bring fish. And more than one Sea-Kite will bring a whole lot of fish.

While the Sea-Kite does seem almost magical, there certainly is nothing new about attracting fish to objects in the water. It is an age old process of which every veteran fisherman is aware. What McIntosh Marine has accomplished is to bring several scientific principles together to form one, very low cost system, which works the first time and every time.

In its most simple form you might think of our Sea-Kite as an umbrella drifting sideways under water, with its tip attached to a vertical line, which runs to a float at one end and a weight at the other. And once the Sea-Kite is in place, the action begins, quickly. As her design features take over, the Sea-Kite begins to undulate and pulsate in the current. Fish are immediately drawn towards this tantalizing new environment of shadows and rhythmic movement. The Sea-kite's wings are doing their job.